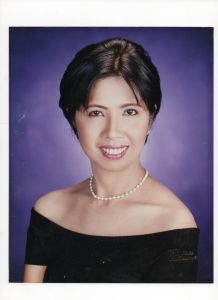 Hi, I am Cecilia Aguilar Herbing.  I have created this website to be able to connect to a lot of people in the world – family, friends and strangers alike.   It is a big dream of mine to reach out to everyone directly and indirectly befitting the manner of which I am called for.
Born in Makati, Philippines on the 9th of July 1957 from a big family of ten children, I was cast as a typical slow learner type of kid.  But there was this inner desire to be the I am.   The image and likeness of God growing within is making me ache to grow in grace and character each time.  In school, I had fun when I started primary at Sto Nino Elementary School in Paranaque from 1964-1970,  then secondary education at St Paul College of Paranaque  in 1970 to 1974.   More so, it was a blessing to get a scholarship grant immediately after at St Paul College of Quezon City and finished  college with a Diploma in Secretarial Science.   Another funding for four years was offered to get a BA degree in Accounting but finished only a year after deciding to enter the convent of the Daughters of St. Paul to become a nun instead.  However, had to leave this semi-contemplative life and moved on to the world of academe after almost four years of discernment.   The former grade school and high school classmates were big helps along the crossroads which shaped me to be the kind of person I want to be.  And for twenty-years, working with the Jesuits (my first and last job in the Philippines) in the administrative offices of the college department at the Ateneo Uni was almost a perfect diversion in between sixteen years of first marriage and work. The greatest blessing is my four lovely children. In addition, I was given anew, an opportunity  to gain another college grant from the late James Meehan, SJ to pursue further my MA Prep in Philosophy at the University of the Philippines in Diliman, Quezon City Philippines in 1996. Incidentally, my budding writing career begun as a volunteer when I became the editor-in-chief of ASSA Newsletter commonly known as Arts & Sciences Staff Association.   I also got the chance to be a contributor for The Coop or AMPC newsletter and the other one was the President's Office University Personnel newsletter.   The highlight, was when I wrote a paper titled Accreditation of Off-Campus Housing Facilities which was read during the Asia Pacific Students Services Association (APSSA) and the University of California Los Angeles (UCLA) on the 17th of April 2002.  Thanks to the late M. Tejido, Ph.D. and the Catholic Education Association of the Phil-National Capital Region Board (CEAP-NCR) for the empowerment!
When we migrated to California in the year 2003,  I continued my volunteer work as Reader/Lector/Eucharistic Minister at the various Parishes- Holy Trinity Parish in Glendale, Holy Rosary Parish in Sun Valley,  St Basil in Wilshire, St Elizabeth in Van Nuys, and St Genevieve in Panorama.   Crucial was my membership with the Civil Air Patrol of the USA Air Force Auxiliary in Los Alamitos, CA from 2005 to 2007.   I started as a private member and was promoted to 2nd Lt after being appointed as Finance Officer and Asst. Public Affairs Officer.   The institution of quarterly Yellow Jacket Newsletter of the Squadron was spearheaded, hence we were given an award as the Squadron of the Year in 2006.
On the 7th of June 2008,  marrying anew this beloved British guy named Paul E. Herbing (my alter ego really) was a total respite.  It was the final migration to the Isle of Wight, United Kingdom that gave me a break to open up.  Writing was getting intense and continued while in the process of assimilation from a fast paced life to a countryside one. Eventually, I was given an opportunity to help publish the South Wight Parish Magazine in 2009 and was introduced as a new member of the Isle of Wight Writer's Circle Club in 2010.  I also became a regular contributor for the Halo Halo Magazine (Southhampton, UK) and helped write the Bidding Prayers for St Mary's Ryde Church since 2009 up until 2017.
In 2012, I was able to self-publish my first book, My Journey Through Life with God.   Successfully launched in the UK and in the USA,  I managed to donate to various non-profit organizations in the Philippines such as Women Crisis Center, Daughters of St. Paul and the Ateneo Human Rights Center with the generous support of so many individuals.   Also, some small proceeds of sales of the books went to St Patrick Church in Southhampton, St Mary's Ryde Church, Quarr Abbey, and St Elizabeth Parochial School in California.  And soon another new book was in tow.
Lastly, education and achievement is no good, if you have not learned how to keep your feet on the ground.  After all, everyone is going to die in the end. Thank you again to all that have come across my life during all these years.  I love to continue sharing the heavently gifts endowed, for it makes this world a better place to live.  Cheers!